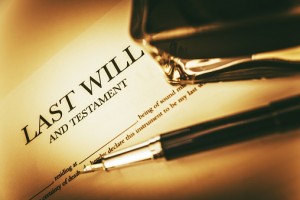 Deciding who gets what and what goes where after a person dies is generally a pretty solemn undertaking.
But not always.
Some folks are able to take a more lighthearted approach when it comes to a last will and testament, and history abounds with some fascinating examples, according to the website
listverse.com.
"While most wills are left in order to make certain that our financial affairs are taken care of after our death, some people have used them to make political points, or just for a bit of a laugh," according to an article on the site . The Roman poet Virgil, for instance, initially wanted his epic Aeneid destroyed upon his death because he had not completed all planned 24 books of the work.
"When his friends found out, they managed to finally convince him to remove the request from his will," the site states. "He consented and the poem was published to great acclaim."
In his will, Charles Dickens demanded that the mourners "who attend my funeral wear no scarf, cloak, black bow, long hatband or other such revolting absurdity," according to the article.
"In addition to the above, Dickens also wrote that he was not to have a public funeral and the place and time of his funeral were not to be made public. He also requested an inexpensive and simple funeral with only three plain 'mourning coaches.' His requests were ignored on a grand scale. He was honored with a huge funeral cortege, with all members present in full funeral regalia. His funeral was a national event."
Benjamin Franklin sought in his final wishes to prevent his daughter from wearing jewelry after his death. He referred to it as a "useless pastime."
"Benjamin Franklin was one of the most admired men in the Western world in the late 18th century," the site explains. "The reason for his odd request was that as former ambassador to France, Franklin was given a portrait of King Louis XVI in a frame studded with 408 diamonds. He left this picture and frame to his daughter Sarah with the above proviso to prevent her from removing the diamonds from the frame to make jewelry."