A San Francisco-area industrial designer whose grandmother was diagnosed with Alzheimer's disease did something rather remarkable.
Sha Yao, who attended the Academy of Art University, created Eatwell, which an article on the website mentalfloss described as "a seven-piece tableware set with 20 unique features specifically designed to meet the needs of those with physical, motor, and cognitive impairments."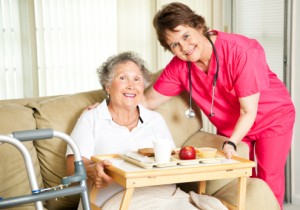 "Yao exceeded her fundraising goal on Indiegogo last year and her designs won the top prize at the 2014 Stanford Design Challenge," continues  "The set has bright, primary colors, which Yao chose because of a Boston University study that found that individuals with cognitive impairment consumed 24 percent more food and 84 percent more liquid when they were in brightly-colored containers.
"Other features include bowls and cups with angled bases, allowing contents to naturally fall to one side, making them easier to scoop and drink, as well as ergonomically-designed spoons whose curvature aligns with the contours of the bowls. There are also holes with flaps at the edge of the tray where an apron, bib, or napkin can be tucked to prevent spill damage, plus wide-base drink ware that's difficult to topple."
"Raising awareness and addressing the needs of people with impairments will allow them to maintain their dignity, retain as much independence as possible, and reduce the burden on their caretakers," Sha Yao told Fast Company magazine. "That's what made designing the Eatwell tableware set so rewarding."
More information is available at http://www.eatwellset.com/#!features/cf1a.