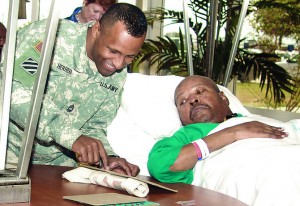 Recent revelations about the myriad failings of the Veterans Administration to address the physical health of many who served their country have overshadowed the quality of care those who do manage to get treated receive.
A posting on the website of California-based The SCAN Foundation, "an independent, non-profit public charity devoted to transforming care for older adults in ways that preserve dignity and encourage independence," a few years ago points out a VA failing that may be just as problematic for servicemen and women.
"The Veterans Administration does a good job of screening hospital patients for physical functions when they are discharged," states
the posting
. "However, it does a poor job of screening to see if they have cognitive problems that might require them to need extensive long-term services and supports."
The SCAN Foundation announcement was based on a 2010 report by the Office of the Inspector General of the Department of Veterans Affairs titled, "Healthcare Inspection – Hospitalized Community-Dwelling Elderly Veterans: Cognitive and Functional Assessments and Follow-up after Discharge."
Cognitive problems include issues with memory, confusion and concentration.
The Inspector General report ""… found that assessments of functional status were completed for more than 97 percent of the hospitalized elders whose medical records we examined."
"In contrast, less than 40 percent of patients had evidence of any cognitive assessment during their hospitalization or in the six months prior to admission," the SCAN Foundation stated. "Hospitals with and without geriatrics academic programs did not differ substantially in these aspects of performance. The inspector general stated that the DVA should 'implement a plan to ensure that vulnerable elderly veterans admitted to VA hospitals have a documented assessment of cognitive functioning.' "
The SCAN Foundation went on to recommend that the "Under Secretary for Health develop and implement a plan to ensure that vulnerable elderly veterans admitted to VA hospitals have a documented assessment of cognitive functioning."