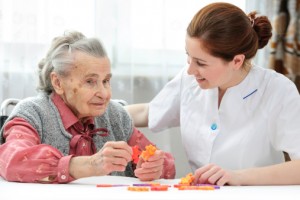 The estimates vary between 66 and 70 million, when it comes to the number of people in the United States serving as unpaid caregivers for family members with disabilities.
The good news is that in some instances, these overworked and stressed out people may at least be able to get something for all the effort they spend on behalf of a loved one.
While the potential for being reimbursed for caregiver services varies widely from state to state programs do exist, according to articles on the websites Carepathways.com and Caring.com.
"Some states offer limited programs that pay family members to take care of an elderly parent," the entry at
carepathways.com
states. "Budget cuts at the state level, however, have further reduced options. Programs within the 50 states vary as to what if any programs exist, who pays for them and even what they are called. 'Participant and Consumer Directed,' 'Cash and Counseling' are a few of names that refer to programs which allow folks to choose and pay a family caregiver. Many of these programs offer inadequate wages and strict income eligibility requirements including those compensated by Medicaid."
"If you're one of more than 70 million people who provide unpaid caregiving for a family member or friend, either in that person's home or in your own, you know that the time and energy burden can be enormous, 
caring.com
 begins. "In fact, you may have cut back or given up your paying job. Your smaller, or now nonexistent, paycheck may be pinching you hard. If so, it might be possible for you to get a small but regular payment for your caregiving work.
"Here's how: If the parent, spouse, or other person you're caring for is eligible for Medicaid, its Cash and Counseling program, available in some states, can provide direct payments that could go to you. A few other states have similar programs for low-income seniors, even if the person receiving care doesn't quite qualify for Medicaid. Also, if the person you're caring for has long-term care insurance that includes in-home care coverage, in some cases those benefits can be used to pay you."
The Caring.com entry goes on to advise that in instances where the family member receiving care is willing and able to pay the caregiver, "it may be a good idea, for both of you, to draft a short written contract setting out the terms of your work and payment."