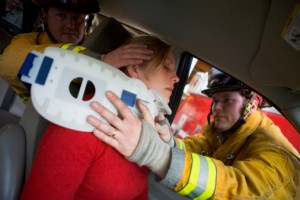 Nobody should be all alone after an accident, the state of Virginia believes.
The General Assembly proved that last year by creating the Emergency Contact Program, which gives law enforcement officials the ability to get in touch with the friends or family members of a participant who has been in a car crash or other emergency situation and cannot communicate personally.
Registration began recently.
"The Emergency Contact Program is free and available to people with a valid Virginia driver's license, identification card, learner's permit, commercial driver's license, or temporary driver's license," according to a recent announcement. "Participation is voluntary. To enroll a child under 15, a parent or guardian will need to first obtain a child ID card. Ask a customer service representative for more information or visit
dmvNOW.com.
"DMV will securely store your information and it will only be available for use by law enforcement in an emergency."
Customers may list up to two contacts.
"In an emergency situation, having contact information for a family member or friend could be very helpful for law enforcement," DMV spokeswoman Brandy Brubaker told WDBJ-TV in Roanoke
"Although we hope our customers never have to use it, we are pleased to be able to offer this service in the event that it may one day be helpful in an emergency situation," DMV Commissioner Richard D. Holcomb, the Governor's Highway Safety Representative, stated in a press release "Before you are involved in a serious crash or other emergency, make sure law enforcement officers have the information they need to get a loved one by your side. Sign up today for
Virginia's Emergency Contact Program."
The DMV offers three ways to sign up or make changes to your emergency contact information:
Online: Visit dmvNOW.com
In person: Visit any DMV customer service center or DMV 2 Go mobile office
By mail: Send the completed form to Data Integrity Work Center, Virginia DMV, P.O. Box 27412, Richmond, VA 23269.